Description
The new Citymaster 1650 offers extremely high levels of flexibility and comfort, because this sweeper with all-wheel steering and articulated joint is also a versatile implement carrier.
With a wide range of different attachments and superstructures available, this machine meets every seasonal challenge in municipal application – and provides fast and economically efficient working. In addition, the Citymaster 1650 offers a comprehensive range of innovative features providing increased operating comfort, safety and efficiency – e.g. the height-adjustable steering column, a 270° camera system or the new 2- or 3-broom comfort sweeping technology.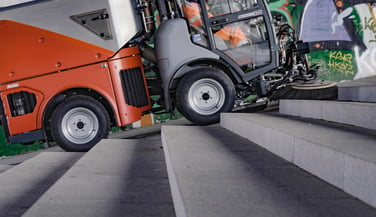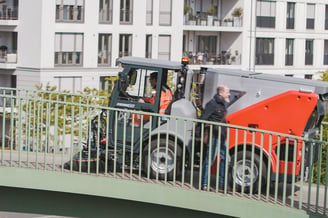 This vehicle can work almost anywhere

Compact, manoeuvrable, and equipped with excellent climbing power: The Citymaster 1650 can be used on all paved surfaces in the city – without restrictions and at maximum payload. From light-duty maintenance cleaning to efficient basic cleaning tasks after the winter: Hako's solution covers the entire performance range of a much larger sweeper – and thanks to its slim design and high manoeuvrability, this machine can also work in confined areas and on footpaths. The sophisticated and fully suspended chassis ensures excellent kerb-climbing abilities and trouble-free driving even on bad roads – without any adverse effects on the driver.

 

Environmentally friendly – and pleasing to 

the ear

The Citymaster 1650's distinguishing benefits are its low consumption- and emission values. Intelligent drive systems provide exactly the right kind of power required for the task on hand, which increases the machine's economic efficiency. The low-emission engine with a particle filter – in combination with Hako's state-of-the-art sweeping technology providing efficient dust control and particularly low fine dust and particulate emissions on a 4-star level (United PM2.5/PM10 Test) – allows working in the city centre as well as in quiet residential areas. Even early in the morning or late at night.